Triceps Workout Videos
Why its Important to Build & Strengthen the Triceps
The triceps muscle accounts for about 2/3 or 70% of upper arm muscle mass. Therefore, if your goal is to increase the size of your arms, triceps exercises are more important than biceps exercises.
In addition to hypertrophying (increasing the size), strengthening the triceps is important. Since the triceps are a synergist for pushing exercises of the upper body such as push-ups, bench and shoulder presses, in order to be able to lift maximum weight for the aforementioned lifts, having strong triceps is essential.
Essential Knowledge for Getting the Most out of the Triceps Workout Videos
You should always perform a variety of triceps exercises due to the anatomy of the 3-headed triceps muscle. Since the triceps brachii originate both on the scapula and humerus you must perform exercises from a wide variety of angles to get a complete triceps workout. Overhead triceps exercises are important because they put more emphasis on the long head is important because it is largest head of triceps.
These Triceps Exercises WILL NOT Burn Fat which covers your Triceps
It is important to bust the myth that triceps exercises help tone the back of the arms for overweight people. Since the back of the arms is a very common problem area in women triceps exercises are a common thing mistakenly done to reduce the fat in the area. If you are looking at these triceps exercise videos because you have saggy flab on on the back of your arms, fat loss should be your priority, not weight training small muscles such as the triceps. See - http://www.askthetrainer.com/fat-loss-101/ for more on fat loss.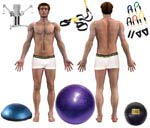 Exercise Videos
Back to the exercise videos anatomy chart.