Stability Ball Workout Videos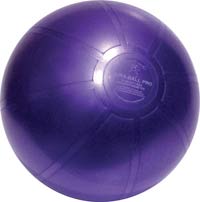 --By Mike Behnken, MS, CSCS

Who are the Stability Ball Workout Videos for?

Stability balls are one of the best exercise balls to help you get in shape regardless of your fitness level. A good stability ball can not only be used to perform hundreds of exercises by itself but it can be used as a substitute for a weight bench. Stability balls can be used for people of all fitness levels and add a new level of fun to workouts even for experienced fitness enthusiasts.

While some experts would argue that stability balls should be used as a progression only after the most very basic exercise techniques are mastered, other trainers prefer to start their clients off with exercises using stability balls. The stability ball is a valuable tool for a personal trainer as they allow them to immediately see the general level of coordination and core stability in their clients.

For more advanced lifters, substituting a stability ball for a weight bench is a great way to increase the difficulty of an exercise without increasing weight. Those who are already in great shape, and strong will benefit greatly from these stability ball workout videos as they can provide a new stimulus for muscle growth, coordination and core strength.

Reap the Benefits of Stability Ball Workout Videos!

Regardless of someone's fitness level, stability ball exercises can be an integral part of any workout program. The most prominent benefit of working with stability balls is the increased requirement for stabilization. Due to the round surface of the stability ball, the body must recruit more muscles, especially core muscles to stabilize the body during the exercise. This allows stability ball exercises to make better use of the time while exercising.

Another benefit of using the stability ball is the round surface allows you to use a greater range of motion for exercises such as crunches performed on the floor. The extra range of motion allows you to go through a more natural, full range which stimulates more muscle mass and builds functional strength.
---
When and Why to Perform Stability Ball Exercises
Are stability balls required to get good workouts and achieve your fitness goals? Of course not, but there is no reason why they couldn't be included in anyone's workout. The benefits outweigh the negatives in almost all circumstances. Perhaps the most important benefit and the reason for widespread stability ball use is for most people stability ball exercises are something new.
There is really no specific time to include stability ball exercises during your workouts. Any of these stability ball workout videos can be performed during the beginning, middle and end of your workouts. If you are not very comfortable with working on a stability it is recommended you use it early in your workout rather than later as fatigue will not play such a huge factor.
Stability Ball Exercise Safety Considerations
As with any piece of fitness equipment, using a stability ball carries some risks. First of all, as mentioned above, since the ball is round your body must use more muscle mass to stabilize the ball, keeping it from moving during exercise. If you are someone who is just starting out, these stabilizer muscles are probably untrained and weak, therefore using light weights or only doing stability ball exercises under direct supervision with a trainer is recommended.
Falling off a stability ball while in various positions is possible and will be a harmless laugh most of the time but it is not beyond the realm of possibility to get seriously injured. Using other equipment such as dummbells and barbells only increases the risk of injury so make sure you abide by the following rule: If it seems like a bad idea for you, DON'T DO IT.
Articles about the Kinesiology Behind the Core Exercises & Stability Balls