Medicine Stepup Twist
The step-up is the quintessential functional exercise requiring balance, coordination and strength. Adding a medicine ball twist to the step-up is a great way to challenge your balance as well as work your obliques and even shoulders. The medicine stepup twist is an exercise which is best used as part of a dynamic warm-up. In addition to using the medicine stepup twist as a warm-up it can be used as a bridge between resistance training exercises of un-related muscles in a circuit training workout program.
Equipment Needed
Elevated Step
Target
Glutes, Hamstrings, Quadriceps
Synergists
Core, Anterior Deltoids
More Leg Exercise Videos to Compliment Medicine Stepup Twist.
Combination Exercises Videos are exercises which work multiple body parts simultaneously.
Looking for Medicine Ball Workout Videos.
Back to Exercise Videos Anatomy Chart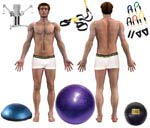 Return to the Ask the Personal Trainer Home Page