Lower Ab Exercise Videos
Lower Ab Exercise Videos ? I thought the Abdominals are a Single Muscle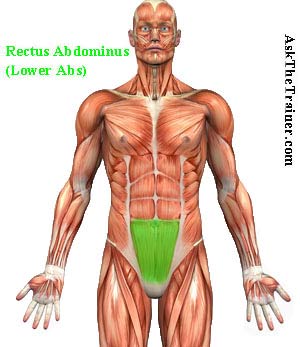 While there is absolutely no debate whether or not the upper and lower abs are both the rectus abdominis muscle, there is still some debate among the expert community whether it is worth it to perform exercises which target the lower abs. This is because for the most part, the hip flexors are recruited for every lower abdominal exercise.
The biggest problem with lower ab exercises is not whether or not it is possible to target the lower abs but the common misconception that you can burn fat from the lower stomach by doing lower ab exercises. The fitness myth of spot reduction is the primary reason why people do lower ab exercises. Because of this, if you have excess lower abdominal fat, you're better off spending time doing cardio exercises and watching your diet than doing any form of abdominal exercise.
Dangers of Doing Lower Abdominal Exercises
Since all lower abdominal exercises involve the hip flexors, doing them can cause the hip flexors to become stronger. This is great if you want to increase your performance in sprinting but if you are the average person who works at a desk job, tight hip flexors could cause problems. If you have lumbar lordosis and you are not able to keep your core engaged, most of these lower ab exercises are pointless as they will focus solely on the hip flexors and not work the abs at all.
Click Here for an Additional 100 Exercises for the Abs
---
Also See
Return from Lower Ab Exercise Videos to the Ask the Personal Trainer Videos Home Page