Foam Roll Exercise Videos (& Stretches)
What are Foam Rollers for ?

Foam rolls that you see in the gym are likely there to perform Self MyoFascial Release (SMFR) which is a form of self massage that helps reduce the adhesions or knots in muscles. These adhesions cause posture problems, movement impairment which can be painful and lead to injuries.

Even though the foam rollers are designed as tools for SMFR they can be used in a pinch to progress the difficulty of standard push-ups as well as an aid to help those with a protracted shoulder girdle.

Use the Foam Roller to Help your Fitness

Muscle Imbalance Problems
Learn why these foam roll exercise videos are important for keeping your body in proper alignment

Upper Body Stretching Exercises
Learn methodology behind stretches for your upper body including corrective self myofascial release techniques using the foam roll.

Lower Body Stretches
Learn methodology and dynamic, static and corrective stretching techniques.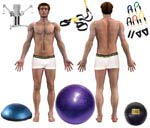 Exercise Videos