Free Motion Dual Cable Cross, Cable Crossover High & Low Cables
Why should you include the Cable Exercise Videos into your Workout Regimen?
First of all, there can be some confusion when talking about 'cable exercises'. If you are new to the gym and fitness equipment you may think 'cable exercises' are all exercises using weight machines that have a cable but this is not the case.
Ask anyone who has regularly attended a gym at one point of their life or someone who is familiar with gym lingo and they will describe 'cable exercises' as exercises on free cable pulley machines commonly called cable crossovers and now new Free Motion Equipment.
When you do cable exercises they feel a lot more like free weight exercises than exercise on selectorized machines. In fact, if you incorporate these cable exercise videos in your workout regimen you will benefit in very much the same ways as you would from free weights (dumbbells and barbells). Any adjustable cable set-up which allows you to at the very least select a high or low cable will enable you to do most of these exercises.
While cable exercises have a very similar motion to all other forms of exercises, there are subtle differences. Knowing the primary differences will shorten your learning curve when trying new cable exercises in your workout program.
Cable Exercises vs. Free Weights
The resistance from free weights is completely dependent on gravity. The force of gravity is always pulling the weights straight down towards the floor. This means for exercising with free weights your body is always at the mercy of the weights meaning exercises always involve you moving in certain positions to target specific muscles.
With cables, the resistance is still coming from the force of gravity, but this ends at the weight stack as the cables and pulleys allow you more freedom of motion as you can position yourself in various positions in relation to the cables. Unlike dumbbells which can rest certain positions with little or no resistance, with cables as soon as you pull or push the cable to raise the weight stack, you will always have equal resistance going through the full range of motion.
Cable Exercises vs. Resistance Bands
You will notice a similarity between these cable exercise videos and those from resistance bands. The cable and resistance both allow you to have more control over your body position in relation to the resistance as opposed to free weights. The primary difference between bands and cables is the cable pulley provides equal resistance throughout the range of motion while the resistance from the bands due to its elastic properties always increases as you increase range of motion. You may want to check out our Bodylastics review if you're looking for a great set of tubes for effective home workouts.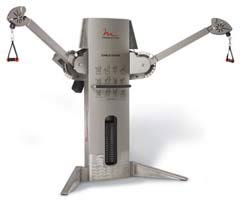 Free Motion Dual Cable Cross Review
Read Our Unbiased Review of Bodylastics Resistance Bands
Resistance bands can produce the same motions typical of these cable exercise videos. Read the review of the most popular cheap home gym consisting entirely of resistance bands which you can take anywhere similar to the TRX from fitness anywhere.