BOSU Ball Workout Videos

More about Working out on the BOSU Balance Trainer
While you may have seen the BOSU ball (or more properly BOSU balance trainer) used in your local gym as mostly something to stand on for balance exercises, it is far more versatile. In fact, using the BOSU simply as an unstable surface for standing is probably one of its least valuable uses.
The BOSU balance trainer provides the round surface for abdominal exercises similar to stability ball exercises in which you also take advantage of the rounded surface. It also provides a flat surface which can be used as a push-up platform and more.
Most of the BOSU Ball workout videos you will see below are simply variations of floor, cable, barbell and even stability ball exercises. Adding the BOSU sometimes increases the difficulty of the exercise but sometimes it will not have much effect.
If you believe an exercise using the BOSU balance trainer can be done better off without, it may be true, but the point is adding different pieces of equipment such as the BOSU and different exercises to your workout program can keep workouts more interesting at the very least.
BOSU Balance Trainer Safety Considerations
As with any piece of fitness equipment, using the BOSU balance trainer has its risks. Since the BOSU is unstable, there is always going to be a risk of falling off. This is especially the case when you attempt to stand on the platform (flat part) of the BOSU, ignoring the "standing on the platform is not recommended" warning.
The chances of getting injured by the BOSU itself are actually highly unlikely. As long as you keep your environment controlled and safe, you should not have to worry about injury. This means take all things you could trip on, hit your head on, or fall on away from the area where you perform these BOSU ball exercises.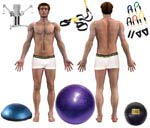 Exercise Videos
Back to the exercise videos anatomy chart.
Ready to BOSU? Check Out Our Detailed BOSU Balance Trainer Review
Learn all about the BOSU ball including who can benefit from it most and who it may not be the best for. Find out whether it can help you achieve your fitness goals. Learn more about the different models of BOSU balance trainer.
Learn All About Exercising With The BOSU Balance Ball
Learn the anatomy and physiology exercise information behind BOSU Ball exercises.
Learn How You Can Use the BOSU Ball for Killer Full Body Workouts
Find the right combination of exercises to get complete full body workouts with the BOSU balance trainer.