Back Workout Videos
What You Need to Know About Back Workout Videos
What constitutes 'back exercises' is different with some people. The first thing to do is clarify what back muscle group you want to work. This page of back workout videos focuses on exercises which focus on the lats and other upper back muscles.
You may also want to check out the lower back exercise videos if you specifically want to target the muscles of the lower back. As an added bonus, lower back exercises also work your core muscles.
Although some refer to back exercises as "lats", exercises for the upper back not only work the lats (latissimus dorsi) but several other important muscles including the rhomboids.
In addition to the numerous smaller muscles of the upper back and shoulders, most multi-joint back exercises such as all rows and pull downs use the biceps, brachialis and brachioradialis muscles of the arms as synergists or helper muscles.
This makes these back workout videos also great exercises for building the arms in addition to the lats and the other muscles of the upper back.
Body Weight Back Exercises
Supine Ring Rows (feet on floor)
Pull Ups

Ninja Pull Ups

(Power Ring Vertical Rows)
Close Grip Pull Ups

Ring Ball Supine Rows

Barbell Supine Rows


One Grip Pull Ups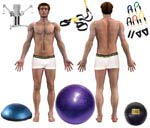 Exercise Videos
Back to the exercise videos anatomy chart.
How to Build and Strengthen the Latissimus Dorsi Muscles
Learn the science behind the best Back Workout videos with detailed anatomy and physiology information.
How to Build and Strengthen the Lower Back Muscles Safely
Learn whether exercises for your lower back are a good or a bad thing for your workout routine.